Welcome to Doughboy Hunting Lodge.
Located in the spectacular South Island of New Zealand. Surrounded by mountains, bush and wildlife, this luxury hunting lodge will make your next hunting trip feel like a true home away from home experience.
Doughboy Hunting Lodge has the reputation for the highest quality trophies in New Zealand. Over 30 years experience and big game hunting on your guides own Ranch makes Doughboy Hunting Lodge the most exclusive and best hunting outfitter New Zealand has to offer.
Hunting with us will give you access to world class Red Stag, Tahr, Chamois, Fallow Buck, Arapawa Ram, Wapiti/Elk, Goat, Duck and Boar. Whatever you are after – your hosts Alex and Cheryl Monahan will tailor a package to suit you and your party's needs and expectations.
Contact us today for your unique hunting experience.
Red Stag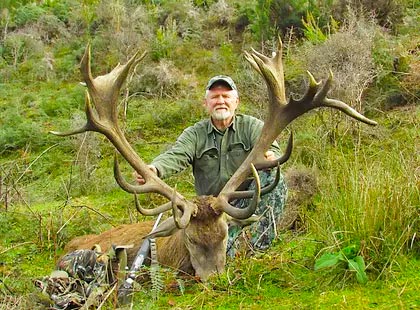 Red Deer (Cervus elaphus scoticus) are widely distributed throughout New Zealand.
They originate from some of the prestigious game parks in the United Kingdom. The characteristics of these herds in New Zealand were preserved for many years by geographical isolation. For example the Otago region had animals sourced from Scotland with typical recognizable features. Similarly the Rakaia, Nelson and Wairarapa herds were derived from English game parks. Over time, however, the purity of these lines has become diluted and therefore the antler structures less clearly distinctive from any given area.
Tahr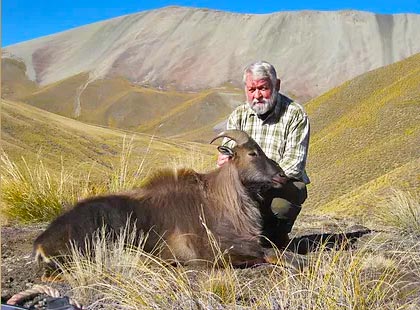 The Himalayan Tahr (Hemitragus jemlahicus) are situated in the Southern Alps of the South Island, New Zealand.
The first animals arrived here by ship via an English game park (Woburn Abbey) and they have thrived ever since
If there is any animal that can be truly awe inspiring in the mountains of New Zealand, to see a bull Tahr traversing precipitous rock or snow at speed is the sight of a life time.
Chamois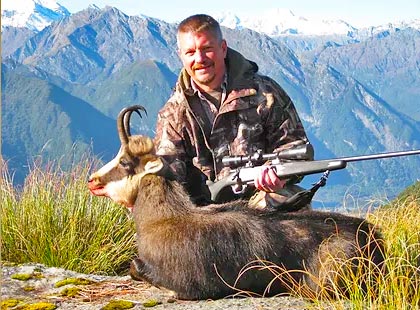 Chamois (Rupicapra rupicapra) are widely spread over the South Island of New Zealand.
The most beautiful of all game animals to be found in New Zealand. arrived in New Zealand in 1907 as a gift from the Austrian Emperor, Franz Joseph. The first surviving releases were made in the Mt Cook region and these animals gradually spread over much of the South Island.
Today they remain widely dispersed but are not evenly distributed.
Fallow Buck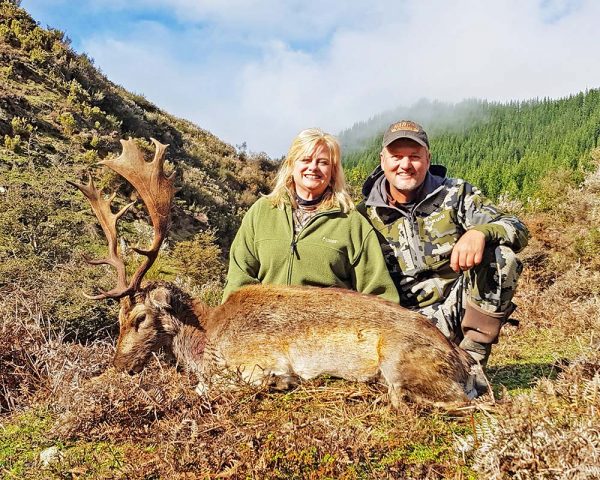 The male is known as a Buck, the female is a Doe and the young a Fawn. Adult Bucks are 140–160 cm long and 90–100 cm shoulder height, and 60–85 kg in weight; Does are 130–150 cm long and 75–85 cm shoulder height, and 30–50 kg in weight. Fawns are born in spring at about 30 cm and weigh around 4.5 kg. The life span is around 12–16 years. All of the Fallow deer have white spots on their backs, and black tips at the ends of their tails.
Arapawa Ram
The Arapawa Sheep is a breed of feral sheep found primarily on Arapawa Island in the Marlborough Sounds, in the South Island of New Zealand.
Introduced in 1867, there are many theories of how the sheep arrived, the most popular is that they were descendents of Merinostrains from Australia.
Due to living in a rather hostile and very steep terrain, this breed often looks hunched over as they carry their head and tail down most often. They have a light build and long legs. Ewes have no horns, but rams have long spiral horns that often measure over 1 metre (3 ft).
Wapati / Elk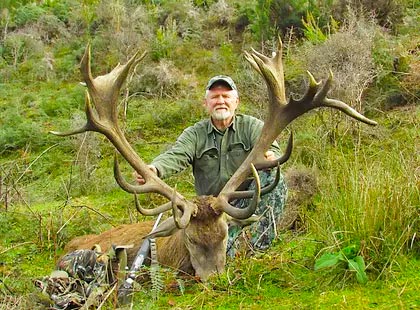 The first Wapiti (Cervus elaphus nelsonii) to be successfully established in NZ were of the Rocky Mountain race and were released in George Sound in 1905.
lsland hunting with Doughboy Hunting Lodge gives you access to world class Wapiti / Elk.
Goat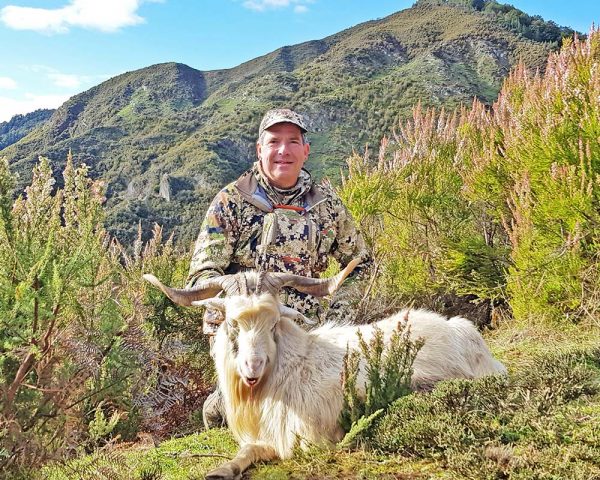 Goats were first introduced at first by James Cook on his second voyage to New Zealand where he liberated goats from England in the Marlborough Sounds in 1773.
Goats were released as food for prospectors, gold miners, and road and railway workers. These goats were probably utility animals which could provide both milk and meat. They ultimately formed the basis of the feral goat population around the country. Goats were usually inadequately fenced, so many escaped to cross-breed and establish new feral populations, especially in hill and mountain areas.
We have a good population of feral goat in our area which are very often hunted at the end of your hunt if there is a spare day available.
Game Bird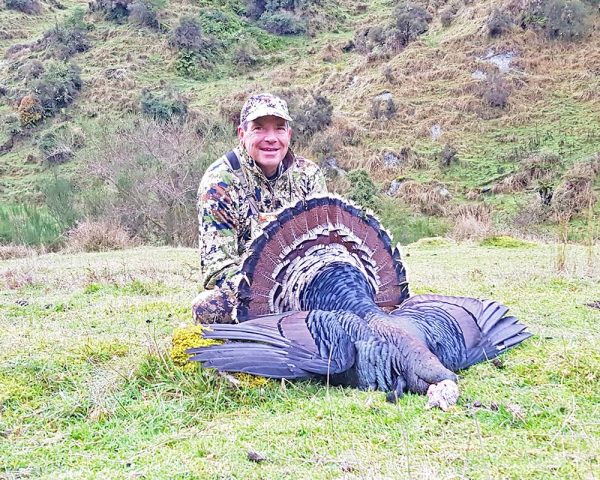 European settlers introduced birds to add to the native fauna, and out of nostalgia for creatures of the 'old country'. They also wanted to provide sport and food, and promote tourism.
In New Zealand, 13 bird species may be seasonally hunted, and are known as game birds. They can be divided into upland game and waterfowl. Wetland game birds include: Four duck species – Mallards, Grey Ducks, Australasian Shovelers and Paradise Shelducks; Black Swans and the Pūkeko.
The upland birds are not in any huntable numbers in our area but we can organise the hunting of the wetland birds.
We also have Canadian Geese and Turkey available.
Wild Boar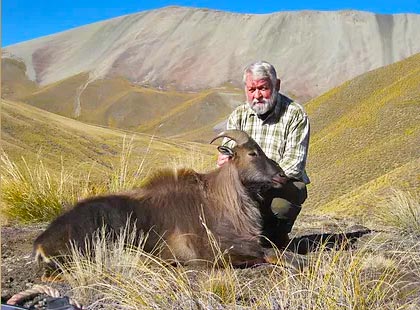 Pig hunting in New Zealand originated when European sailors first released pigs. Captain Cook's liberations of pigs (Susa scrofa) in the 1770s, while not the earliest, were probably the first successful releases.
Wild black pigs, supposedly similar to the original type have become known as Captain Cookers. Today wild pigs come in a variety of colours as a result of interbreeding with domestic breeds over the last couple of hundred years.
Wild pig hunting in New Zealand is a significant sport in New Zealand, with over 20,000 pig hunters involved. There are many pig hunting clubs scattered around the country supporting regular pig hunting competitions and two dedicated pig hunting magazines are published.